What are the innovations offered to the market "Ukrzaliznytsia" to improve grain transportation in 2018 year, Do they solve the problem, and what would the business.
2018 year on the market of rail transportation of grain already remembered next, sometimes contradictory, changes and innovations: "Ukrzaliznytsia" I decided to close part of inactive stations, the volume of private park grain cars almost on par with the park UZ, while turnover increased from 10,6 day in September 2017 years before 12,8 day in September 2018 of the year. at last, It was given priority routing mandrels, from which good railway monopoly and the largest agricultural holdings, but not very good the rest. As a result,, complaints from grain producers this year only increased. Agrarians blamed around the so-called American model of sending cargo routes. But analysts have a different opinion: routes – it is a consequence of. reason – deadlift.
Closing stations
in the spring "Ukrzaliznytsia" He presented the participants of the agrarian market of the vision of the issue of reducing the number of railway stations. It was about 177 low-density stations of which 60 It proposed to close completely, yet 110 stations close, with the possibility of recovery.
But, because ultrasound has no independent right to close the station,, the company has gone the other way and artificially restricted supply wagons – Mesplane in applications on low-density station wagons are not confirmed.
The company has strong arguments about the closure of stations. they say, that suffer heavy losses. "About 6 billion USD of direct costs are infrastructure maintenance", – He noted CFO ultrasound Andrew Ryazantsev. but, not to throw business to fend for themselves, at "Ukrzalyznыtse" They offer the option of compensation of the costs of low-density stations. At the same time guarantee for the supply of cars still will not be. "In order not to make any sudden movements, we sounded the compensation mechanism of the low-density stations ... To solve this question unanswered Local", – said COO "Ukrzaliznytsia" Vyacheslav Eremin. According to him, order 10 customers have already signed agreements with additional ultrasound.
What are these 10 companies, in response to a formal request for TCC, in ultrasound have not reported. Moreover, told, that such an agreement is under development. Behind the scenes there are rumors, that the tariff for the supply of low-density at the station will be ten times higher. Until "Ukrzaliznytsia" He writes Agreement, business loses ...
Deputy Director of the company's logistics "delta Wilmar" Valery Tkachev notes, what, Firstly, It was incorrectly selected criterion for determining the light density station. "First ultrasound year does not deliver on the station wagon, and then says, that there is nothing loaded and closes station", – complains Tkachev. According to him, more correct selection criterion would be the cargo base station.
route send
One more, so to speak, innovation of this season – Full train. In the w / e the company is not always cope with the car freights, and leadership "Ukrzaliznytsia" repeatedly spoke about the priority of the route deliveries. But these are not satisfied with all the players in the market. Large agricultural holdings in scoring – and sending them timely, and discounts, but small companies – more difficult.
"We must increase with 10 to 20 the number of the route deliveries of grain cargoes per day. These will cover the shipment 80% cash park, that will make it possible to reduce the turnover of cars… Generally, Routing will increase the amount of grain transportation", – announced the head of the ultrasonic Eugene Kravtsov. There were even rumors, from November "Ukrzaliznytsia" fully switch to send the shuttle, but PZT comments Director of Strategic Development and Investment Policy Anton Sabolevsky their dispelled.
In one of the companies, who wished to remain unknown, tell, that all elevators in western Ukraine clogged, because ultrasound is not the export of grain, and corn standing in the field. Particularly critical situation noted in the Lviv and Dnieper highways. Exit see one – the abolition of routes.
To work with the itineraries can only South-Western Railway. there is located 30 routing stations. on South – 17, Odessa – 12, Lviv – 5, Dnieper – 1, Donetsk – 0.
In company "delta Wilmar" confirm, that in the western region the situation is not the best. "We 800 w / d elevators, of which only 50-70 can ship routes, and they all belong to the main large companies", – says Valery Tkachev. According to him, to work with the itineraries can only South-Western Railway. there is located 30 routing stations. on South – 17, Odessa – 12, Lviv – 5, Dnieper – 1, Donetsk – 0. In this way, according to Tkachev, cut off from whole areas were infrastructure: Zaporizhia, Dnipropetrovsk, Donetsk. "Routing leads to monopolization of the market, because 80% elevators cut off from the infrastructure", – he explains.
Analysts confirm the fact, Now that the market was not very fair conditions. "Only 5-7 companies can fully Route. They, actually, are the only, who gets regular access to the railway, therefore the remaining competitively lose", – said the head of CTS Consulting Andrew Shkliar. but, in most routing, According to analysts, nothing wrong. This model implies a more efficient use of all: cars, locomotives, sidings. Another issue is, this model has been implemented.
"KM came out and said: Now ship routes, Full wagon load because it is not profitable for us. And it happened in the middle of the season. If ultrasound correctly prokommunitsirovala and a year or two reported, that will send a shuttle to enter, all would have passed without serious consequences, because the company had to invest in elevators and access roads", – explains Andrew Shkliar. In addition, Ultrasound should give a significant difference in the tariff for carload and route of sending. Because it is due to this difference the company will have to carry out investment in infrastructure.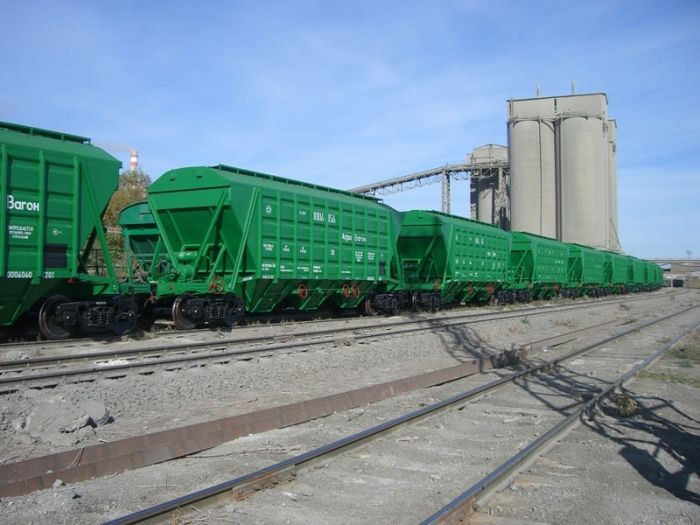 stock
The third paragraph of changes in the market of grain logistics attribute a significant increase in the number of private grain. AT 2016 year, when the total fleet consisted of grain 13 thousand. units, of which only a little more than 2 thousands hoppers belonging to private owners, market complained that, due to a lack of rolling stock companies can not take the crop. but, in the plans of US buy grain cars are not included, and business slowly began to invest their own. He complained about the long payback period, but continued to invest.
So, small rates, but for two years the situation has changed dramatically. At present, there are in Ukraine 21,3 thousand. zernovozov, of which 10,3 thousand. property UZ, 9 thousand. – private and 2 thousand. Foreign cars railway administrations. The highest number of private grain cars owned by the company "RTK-Ukraine" (more 2 thousand. units). Also own cars the company MTC, "Ukrtranslyzynh", "Promvahontrans", TD "West", AP Marin, "Glencore", "Cargill" other.
In September 2016 of the year, when the total fleet counted 13 thousand. cars, it was transported 3,1 million tons of grain. AT 2018 year, already at the park 19 thousand. cars were transported to 300 thousand. tons of grain less.
Through private grain total car fleet has increased significantly and today it is more, than enough. But, as it turned out, is directly proportional to it did not affect the quality and volume of traffic. Speaking numbers, in September 2016 of the year, when the total fleet counted 13 thousand. cars, it was transported 3,1 million tons of grain. AT 2018 year, already at the park 19 thousand. cars were transported to 300 thousand. tons of grain less.
After that, in February of US carload rate is deregulated, and cheap grain on the market is no longer, invest in rolling stock to private companies become more profitable from an economic point of view. but, the advisability of investing in rolling stock under a big question, insofar as, in fact, – an investment in warehouses on wheels. Plane of the carriages situation moved in plane and locomotive performance.
Over the past two years, According ultrasonic, grain cars turnover increased by five days: with 7,83 in September 2016 years before 12,8 in September 2018 of the year. With such a drop in the efficiency of traffic, to provide even their former volume, companies need significantly more rolling stock. but, It is much more likely to invest business now thrust, which really is a shortage.
Summarizing all the above, Routing itself is not something critical. "Ukrzalyznыtse" I had to resort to it, because there are problems with traction. The company is mobilizing all forces and gives more efficient operations. If you have a problem with traction was not, KM would not have to limit the wagonload and closing station. Nevertheless, problems with the shortage of locomotives has, and question their decision remains open ...